WELCOME OUT OF TOWN PATIENTS
Dr. Nayak is sought out by many patients, both nationally and internationally, who are interested in traveling to him for surgery. Traveling in for surgery with Dr. Nayak requires a significant commitment on the part of the patient. It is our goal to make the process as seamless as possible, so that each patient has an excellent experience, from start to finish.
---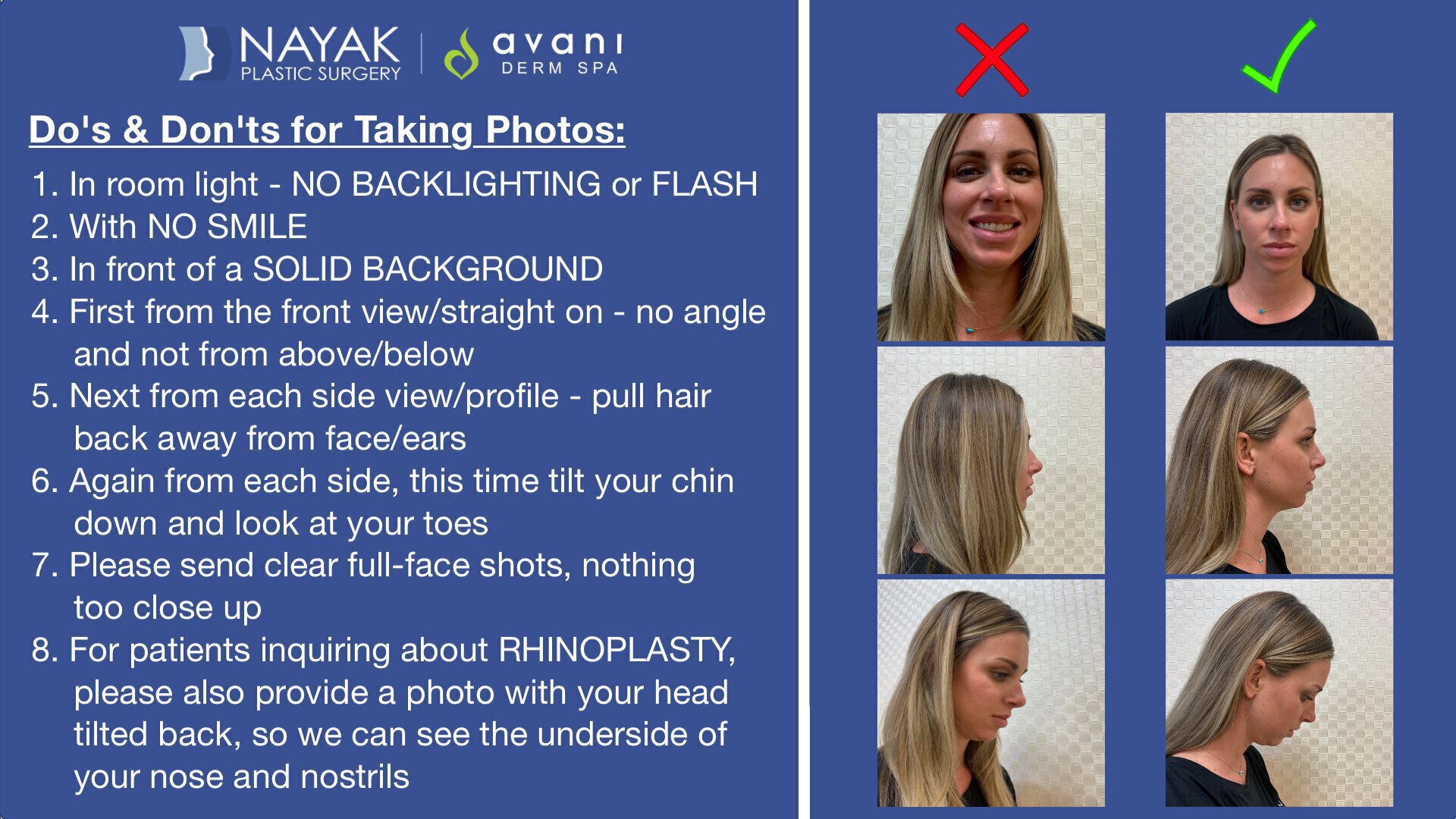 ---
SUBMIT YOUR INQUIRY AND PHOTOS?
The first step would be to contact us by submitting our online form, sending us a text, or emailing our Consultation Coordinators directly at: [email protected]. We require all out of town patients to submit high resolution (full sized) photos that are taken with no flash, in room or natural lighting. Please submit front and profile views – each looking straight ahead, and then also looking down at the toes.
For rhinoplasty patients, we also request these same photos, along with a photo of the underside of the nostrils from the base view (taken with your head tilted upwards). We strongly recommend that you enlist the aid of another person to take these photos so the angles and lighting are optimal, and to ensure your head is not turned on your shoulders when taking the profile views. Please see the photo guidelines below for reference. Photos provided will always remain confidential, and are never shared – your privacy is of the utmost importance to us. The only photos and videos shared on our website, or within social media platforms, are from those patients who have given us specific written consent.
---
THE PHONE CONSULTATION
Our Consultation Coordinators are here to assist you with the initial step in our scheduling process – the phone consultation. During this call, information will be gathered regarding your goals with surgery. A thorough health history will also be collected, including information about past surgeries and hospitalizations. The coordinator will provide a preliminary range of cost, details regarding the procedure(s) you are interested in, information related to both initial and long-term healing, and specifics related to the surgery itself.
All of these details are shared in advance to prepare patients for the consultation. While phone consults are a vital starting point, the in-person or virtual consultation is always the next step, depending on the procedure. After this call, the consultation with Dr. Nayak may be scheduled. A fee of $1,000 is collected in advance to secure the time on the schedule. This fee may be applied to surgery.
---
THE IN-PERSON CONSULTATION
During the in-person consultation, you will have an opportunity to meet with your consultation coordinator and to speak with Dr. Nayak one-on-one. Dr. Nayak will want to hear your cosmetic and surgical goals directly from you. Even though your coordinator will have already shared this information with him from your initial phone conversation, Dr. Nayak feels it is very important to hear you describe your concerns in your own words, as he often finds value in the nuances of your descriptions.
After speaking with you, Dr. Nayak will examine you and feel the areas you are interested in improving. He will then provide you with a surgical treatment plan based on your needs. Your Consultation Coordinator will then review with you the quote(s) for cost, as well as any applicable checklists detailing how we prepare for surgery, what the day of surgery is like, as well as potential risks and complications.
---
THE VIRTUAL CONSULTATION
With the exception of unique or revision cases, we offer virtual consultations through Zoom, which patients have found to be an excellent option.
To schedule a Zoom consultation, the same fee of $1,000 is collected, which may be applied to your surgery. A Zoom link is sent in advance, as well as the link to our new patient paperwork packet. You will need to submit the completed packet, and submit any missing photo angles, at least a few days prior to your consultation. During the virtual consultation, as with an in-person consultation, you will have the opportunity for a "face-to-face" discussion with Dr. Nayak to go over your specific goals. Dr. Nayak will likely ask you to speak, move your face, or turn your head in certain ways, which will aid him in the virtual physical exam.
To help him see clearly, we ask that you position yourself an area with favorable lighting from the front.  Dr. Nayak will use your previously-submitted images, and sometimes screenshots from the Zoom call, to draw up his suggestions and plans. For rhinoplasty consultations, he will also perform a digital "morph" of the nose to best communicate what the shape goals will be. While a phone or tablet can be used for the consultation, it is better to use a laptop or desktop, with the biggest screen possible, so that you can see the drawings clearly.
---
RESERVING A SURGICAL DATE
After the consultation, a surgical date may be secured with a 20% deposit to hold the time on the calendar; this deposit becomes non-refundable 30 days prior to surgery. The pre-operative visit is scheduled 2 weeks prior to surgery and can be handled by phone if you live far away. All of the necessary paperwork for this visit is emailed in advance. If both your consultation and your preoperative visit occur virtually/by phone, you will be required to arrive the afternoon before your surgery for an in-person review session and physical exam with Dr. Nayak. Surgery will take place the next morning.
The duration of your stay in-town varies based on the procedure. For patients having rhinoplasty, a chin implant, and upper or lower blepharoplasty, the first follow-up visit is at the one-week mark. These patients may stay in town for the week, or fly/drive back home, as long as they are able to travel back in for the first follow-up. Patients undergoing a deep necklift® or mini lift, are required to remain in town for 10-days following surgery, as multiple follow-up visits take place within that time frame.
---
LOCAL ACCOMMODATIONS
Nayak Plastic Surgery has relationships with two local hotels, which are in close proximity to our office. We recommended these options first for those patients who require accommodations during their stay.
Both options offer an affiliate rate and are very accomodating for our patients. Of the two options, we generally prefer the Hilton, as it is within a few blocks of our office. Please mention Nayak Plastic Surgery when booking to secure the special nightly rate. (Specific details below)
---
CONCIERGE PRESCRIPTION SERVICE
Nayak Plastic Surgery offers an in-house pharmacy service, enabling patients to fill all required prescriptions in the office, on the day of surgery. This convenient service eliminates the need for a trip to an outside pharmacy, and typically results in associated savings for our patients.
Prescriptions are filled privately, without involving your health insurance, at a fixed cost of $15 each (compared to $10-$40 for typical insurance co-pays for these medications). This service is completely optional, and is also available for our local patients.
---
What to do while in St. Louis…
Why St. Louis Needs to Be Your Next Weekend Getaway – Click here to find out now!
Go and see a St. Louis Cardinals or St. Louis Blues game, every locals' favorite pastime. Before game and/or after game, stop in at Ballpark Village to see St. Louis' newest dining and entertainment district! So many options, including great views of Busch Stadium!
The St. Louis Zoo and Forest Park – our zoo is FREE and voted one of the BEST in the country! The zoo is located inside Forest Park. The park covers 1,371 acres and is home to not only the zoo, but also the Science Center, History Museum, Art Museum, The Muny, and much more!
Take a FREE brewery tour at the Anheuser Busch brewery in Soulard. Official home of the King of Beers – Budweiser! The tour includes observing the entire 7-Step Brewing Process, and visit with the famous Clydesdales, featured in many Super Bowl commercials, as well as taking a peek at the brew kettles and beechwood aging cellars. BONUS – complimentary beer tasting at the end! (ages 21+)
Go up inside the famous St. Louis Arch, the "Gateway to the West"! You will experience beautiful views from America's tallest man-made monument at 63 stories high!
Visit the Missouri Botanical Garden, home to 79 acres of lush gardens, landscape architecture, greenhouses and conservatories. The oldest Botanical Garden in the United States!
In St. Louis (STL as we locals say), we love our toasted ravioli, STL style pizza and frozen custard. The Hill, a quaint St. Louis neighborhood, famous for Italian cuisine, is a perfect spot for casual hangouts and dining. Walk around and snack on delicious toasted ravioli and STL pizza, at one of the many dining establishments. Then top it off with a visit to Ted Drewes for their signature frozen custard.
Take in the beauty of one of the largest mosaic collections in the western hemisphere, inside the spectacular Cathedral Basilica of St. Louis. Also known for the stunning Angel of Harmony Sculpture, promoting racial harmony.
Dining in STL – There is no shortage of restaurant choices in our gorgeous city. From casual to upscale, there is something for everyone. Some of our staff's favorite stops include…. Companion Bakery, Sugo's Spaghetteria, Dewey's Pizza, Imo's Pizza, Southern, Pappy's Smokehouse, Billy G's, The Shack, Kreis' Steakhouse and Thai Kitchen, just to name a few!
Family time – we have already mentioned some wonderful family activities in this list, but there are a few other fantastic gems to consider visiting:
The Magic House is an interactive children's museum perfect for the little ones, using hands-on learning and encouraging experimentation. The Magic House is known as one of the nation's top children's museums. It was also ranked by Zagat US as the nation's #1 attraction based on child appeal
Grant's Farm is a Busch family estate that was once owned by Ulysses S. Grant. The property features various animal shows, a petting area for children to feed baby goats, and tram rides through the wildlife preserve.
The City Museum is a children's funhouse and architectural marvel made out of unique objects. Various artisans constructed the museum with random items from the city. The museum features salvaged bridges, cranes and two abandoned airplanes!
---
Hotel recommendations
Below are hotel options to consider near our oce. These are preferred hotels by our patients who have shared their personal experiences with us. Keep in mind that it would be best to have a room with a kitchenette for extended stays. Consider requesting a wheelchair accessible room, as they have handles/seats in showers, ground floor rooms, etc.
If you would like a marked map of recommended areas for Airbnb/VRBO rentals, we are happy to share that as well.